We need your support

The Pasadena Shakespeare Company is a 50(c)(3) non-profit corporation with limited financial resources. Each season marks a tremendous leap in expenses over previous years. Here are some ways you can help us survive and thrive:


Financial Contributions
You can help us by not only patronizing our productions but by your generous tax-deductible donations to the PSC.

$20 pays one actor for one weekend!
$50 pays the royalties for one performance!
$100 will pay our phone bill for one month!
$860 will pay fees for our web sites for a year!
$2000 pays our rent for one month!
Only half of our supporting costs are covered by ticket sales and the PSC needs your support to continue to produce quality theatre and to grow during our third season. If you made a contribution to the PSC in the past, won't you consider supporting us this year with an equal or greater tax-deductible donation? If you are new to us, we would be grateful for your support. Crusaders are listed in the playbill for each production:
Foot Soldier:.... $10 and up
Cavalry:............$25 and up
Archer:.............$50 and up
Cannoneer:.....$100 and up
Knight:...........$500 and up
General:.......$1000 and up
Monarch:.....$5000 and up


If you are a contributor to United Way at your workplace, you may designate your donation to benefit the PSC. Our Federal Tax ID number is 95-4571314.

Also, checks payable to the PSC may be mailed to...



The Pasadena Shakespeare Company
P.O. Box 94410
Pasadena, CA 91109
(626) 799-1860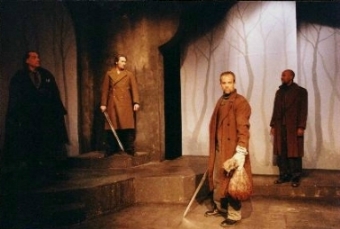 Macbeth
Photo: Jerry Neill