Pasadena Shakespeare Company Looking for a New Home

November 2, 1999


The Pasadena Shakespeare Company has announced that it may have to move in the near future due to the planned renovation of the Plaza Pasadena, where the PSC has made its home since 1996.

The company hopes to be included in the mall's reincarnation as the Paseo Colorado, but is looking both for an interim location in which to perform its 2000 season, as well as other potential long-term locations. The ideal long-term space would have at least 5,000 square feet, including an open area with high ceilings for the performance area, as well as room for backstage facilities, an office, and storage. The public's suggestions regarding potential spaces are welcome. Please contact PSC artistic director Gillian Bagwell at (626) 564-8564.

Over its four seasons, the PSC has increasingly gained a reputation for high-quality productions, being hailed as "a first-rate theatrical company" by the L.A. Times and "one of Pasadena's greatest treasures" by the Pasadena Star News. Further information about the company can be found on its website at pasadenashakespeare.com.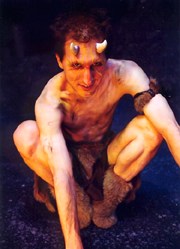 A Midsummer Night's Dream (1999)