Pasadena Shakespeare Company Announces 2000 Season

October 24, 1999


The Pasadena Shakespeare Company has announced that subscriptions are now on sale for its 2000 season. The first production of the year will be Shakespeare's tragedy King Lear, directed by Scott Rabinowitz, who directed the PSC's acclaimed 1999 production of Othello. Lear will play from February 25 to April 2.

From April 28 to June 4, the PSC will present Kaufman & Hart's classic American comedy, You Can't Take It With You, directed by David Paul Needles, who delighted PSC audiences with his production of A Midsummer Night's Dream

Next, Dana Marley-Kolb will stage She Stoops to Conquer, a hilarious 18th century comedy of manners and mistaken identities. Ms. Marley-Kolb has directed many of the PSC's biggest hits, including The Beggar's Opera and Our Country's Good. She Stoops will run from June 23 to July 30.

The fourth show of the season, playing from August 18 to September 24, will be The Merchant of Venice, Shakespeare's tale of intolerance and revenge, directed by guest director Michelle Truffault, the former artistic director of San Francisco Repertory Theatre.

The season will conclude with Shakespeare's Henry IV, Part One, staged by PSC artistic director Gillian Bagwell. Infrequently performed, this history play juxtaposes the madcap Prince Hal's friendship with the disreputable Falstaff against the growing need for him to assume his responsibilities as heir to the throne and contend with the shining reputation of the dangerous rebel Hotspur. Henry IV will run from October 13 to November 19.

Five-play subscriptions are only $70 for general audiences, and $55 for students and seniors. Family subscriptions, which provide 4 tickets to each play, are $225. There is a $10 discount on subscriptions purchased before the end of the year. To receive a subscription brochure, or for more information, call (626) 564-8564 or visit the PSC's website at pasadenashakespeare.com.

The PSC has been hailed as "a first-rate theatrical company" by the L.A. Times and "one of Pasadena's greatest treasures" by the Pasadena Star News. The PSC is located in Suite 296 of the Plaza Pasadena mall, at 300 E. Colorado Blvd. Free parking is conveniently located in the garage on the southeast corner of Euclid and Green. A pedestrian bridge leads directly from the third floor of the garage into the mall.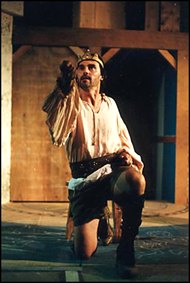 Macbeth (1995)