Pasadena Shakespeare Company Opens 2000 Season With "King Lear"

January 27, 2000


The Pasadena Shakespeare Company will open its 2000 season with King Lear, Shakespeare's classic tragedy of a stubborn and vain old ruler who loses everything because of his blindness to the presence of true love and loyalty. This modern-dress production of King Lear will be directed by Scott Rabinowitz, whose 1999 production of Othello for the PSC received enthusiastic critical acclaim, including being named Pick of the Week by the L.A. Weekly.

There will be a pay-what-you-can preview on Thursday, February 17 at 8 p.m. Opening night is Friday, February 18 at 8 p.m., and the production continues on Fridays and Saturdays at 8 p.m. and Sundays at 3 p.m., closing on Saturday, March 18.

General admission is $18, with $15 tickets available for students, seniors, and members of actors' unions. Subscriptions to the PSC's 5-play season are also available, for only $75 for general audiences, and $55 for students and seniors. Family subscriptions, which provide 4 tickets to each play, are $225. To make reservations, request a subscription brochure, or for more information, call (626) 564-8564 or visit the PSC's website at pasadenashakespeare.com.

The PSC, now in its fifth season, has been hailed as "a first-rate theatrical company" by the L.A. Times and "one of Pasadena's greatest treasures" by the Pasadena Star News. The company is losing its current home due to the imminent renovation of the Plaza Pasadena mall and will present its 2000 season at the Fremont Centre Theatre at 1000 Fremont Avenue in South Pasadena. The theatre is at the corner of El Centro, one block south of Mission and two blocks west of Fair Oaks. Free parking is conveniently located behind the building.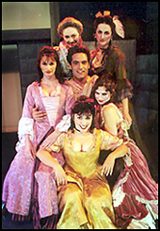 The Beggar's Opera (1998)